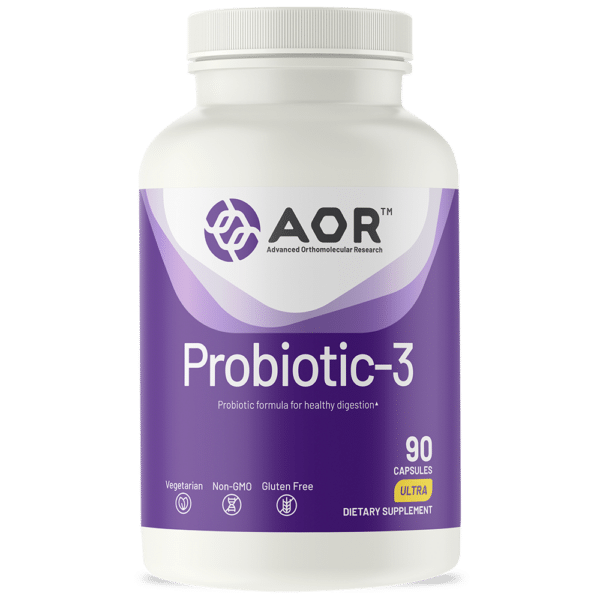 Probiotic formula for healthy digestion*
Promotes healthy gut flora
Helps with regular digestion and immune system support
A good source of 3 strains of beneficial probiotics found in healthy human digestive tracts
Probiotic-3 is a carefully designed formula that combines a blend of three bacterial strains that promote the health of the digestive system. Enterococcus faecium, a bacterial strain that naturally inhabits the human gastrointestinal tract, helps lower the gastrointestinal pH. It also helps block the growth of harmful bacteria by producing lactic acid as a byproduct of carbohydrate fermentation.
Clostridium butyricum is a natural resident of the human gastrointestinal tract and breaks down dietary fiber into several beneficial nutrients, like butyric acid, which is an important source of nourishment for colonocytes (the cells of the lower gastrointestinal tract) and helps support our inflammatory response. Bacillus subtilis also supports the growth of E. faecium and C. butyricum, as well as the growth of several strains of the beneficial Bifidobacterium species.
AOR Advantage
Probiotic-3's unique formula combines three human strains that have been clinically studied for over 55 years and is regularly used in hospitals and pharmacies throughout Asia. Each  strain was carefully chosen to ensure synergy and safety with the others.
Discussion
The enterobacteria contained in Probiotic-3 act in symbiosis and support a healthy intestinal flora. Lactic acid and butyric acid-producing probiotics inhibit the growth of non-beneficial bacteria while promoting the growth of the beneficial Bifidobacterium strain.*
Guarantees
AOR™ guarantees that all ingredients have been declared on the label. Made without wheat, gluten, corn, nuts, peanuts, sesame seeds, sulfites, mustard, soy, eggs, fish or shellfish.
Directions
Take two to three capsules per day with or without food, or as directed by a qualified health care practitioner. Take at least 2-3 hours before or after taking antibiotics. Refrigerate after opening. Do not crush, mix, or blend. Swallow capsules whole.
Cautions
Consult your physician before use if you are pregnant, lactating, have a medical condition, or are taking any medication. Keep out of reach of children. Consult a health care practitioner prior to use if you have fever, vomiting, bloody diarrhea, severe abdominal pain, discontinue use and consult a health care practitioner.
Disclaimer
*These statements have not been evaluated by the Food and Drug Administration. This product is not intended to diagnose, treat, cure, or prevent any disease.
Serving Size
2 Capsules / Servings Per Container: 45
Amount Per Serving
% Daily Value
Enterococcus faecium T-110
36 million CFU†
Ɨ
Clostridium butyricum TO-A
1.2 million CFU†
Ɨ
Bacillus subtilis TO-A
1.2 million CFU†
Ɨ
† Daily Value not established. ‡ Colony Forming Units
Other Ingredients: Lactose, potato starch, polyvinyl alcohol and polyvinylpyrrolidone. Capsule: hypromellose and purified water. Contains: milk (lactose).