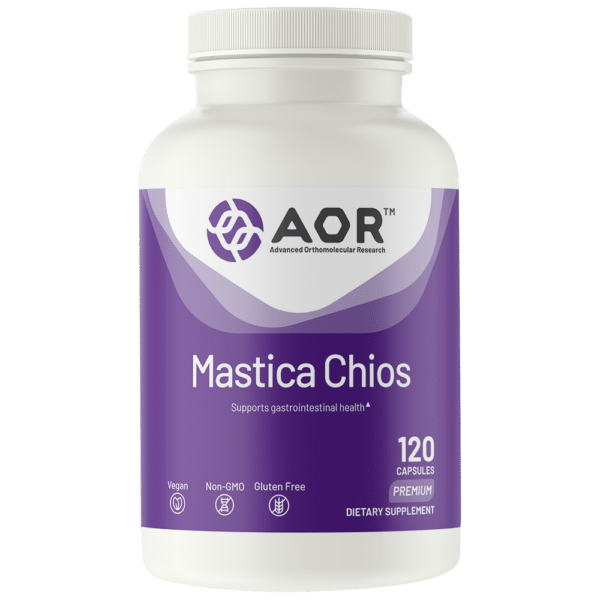 Supports gastrointestinal health*
Provides relief for digestive discomfort
Supports esophagus inflammatory response
A health-promoting gum resin derived from the Pistacia lentiscus tree
Mastic gum is the gummy resin of the mastic tree – Pistacia lentiscus, a relative of the pistachio tree. The mastic tree is found almost exclusively on the Greek island of Chios, the birthplace  of Hippocrates, the traditional father of medicine. Mastic gum has historically been used to support the gastric and intestinal inflammatory response.
In modern society, mastic gum has proven useful for supporting the inflammatory response within the esophagus and intestines.
AOR Advantage
AOR's Mastica Chios is derived exclusively from mastic gum from the pistachio trees found on the Greek island of Chios.
Discussion
Mastica Chios is mastic gum, the resinous extract of the mastic tree (Pistacia lentiscus) grown on the Greek island of Chios. It is traditionally used in Ayurveda for gastric support.*
Guarantees
AOR™ guarantees that all ingredients have been declared on the label. Made without wheat, gluten, corn, nuts, peanuts, sesame seeds, sulphites, mustard, soy, dairy, eggs, fish, shellfish or any animal by-product.
Directions
Take one capsule three times daily on an empty stomach, or as directed by a qualified health care practitioner. Do not mix, crush, or blend capsules. Swallow capsules whole.
Cautions
Do not use if pregnant or breastfeeding or if you have an allergy to Anacardiaceae family plants (eg. pistachios). Discontinue use if hypersensitivity (e.g., allergy) occurs. For occasional use only. Consult a health care practitioner for use beyond 2 weeks, if symptoms persist or worsen, if you have diabetes mellitus or Crohn's disease or if you are taking hypoglycemic or hypolipidemic agents.
Disclaimer
*These statements have not been evaluated by the Food and Drug Administration. This product is not intended to diagnose, treat, cure, or prevent any disease.
Serving Size
One Capsule / Servings Per Container: 120
Amount Per Serving
% Daily Value
Mastic Gum (Pistacia lentiscus)
400 mg
†
† Daily Value not established.
Other Ingredients: Microcrystalline cellulose and sodium stearyl fumarate. Capsule: hypromellose and purified water.