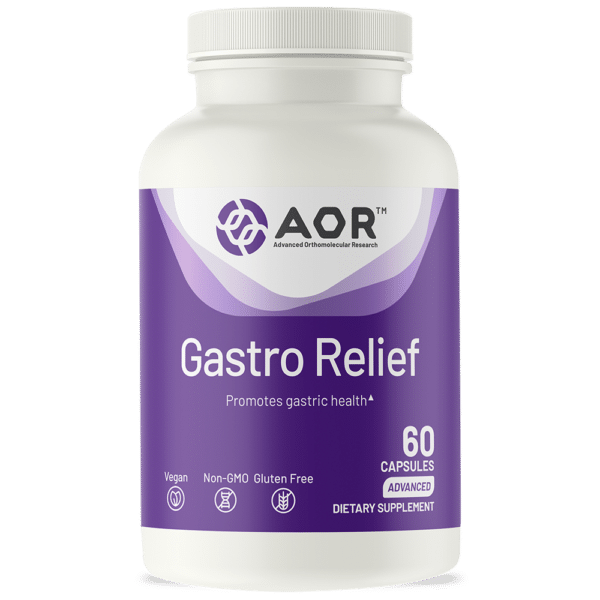 Promotes digestive comfort and function
Promotes quick, effective esophageal relief
Refreshing and calming for the esophagus and stomach
Gastro Relief is a unique and revolutionary supplement that supports gastric health from as many angles as possible. It supports gastric comfort while promoting healthy gastric tissue and function. AOR's formula was designed to quickly and effectively provide esophageal relief while delivering nutrients that help support a healthy gastric pH.
AOR's supplement contains mastic gum to support esophageal and stomach health. Vitamin C to increase the acidity of the stomach (since most gastric problems stem from a lack of  stomach acid as opposed to too much). Ginger to calm the stomach during digestive upset. Zinc-carnosine and nitric oxide to promote healthy stomach-lining cells. Finally, sodium
alginate supports a natural barrier between the harsh acids of the stomach and the delicate lining of the esophagus.
AOR Advantage
Gastro Relief is a revolutionary supplement that offers an excellent alternative to antacids and others when it comes to promoting digestive comfort.
Discussion
Gastro Relief contains clinically studied nutrients that support the healthy normal functioning of the gastrointestinal system.*
Guarantees
AOR™ guarantees that all ingredients have been declared on the label. Made without wheat, gluten, nuts, peanuts, sesame seeds, mustard, soy, dairy, eggs, fish, shellfish or any animal by-product.
Directions
Take two capsules daily with food, or as directed by a qualified health care practitioner. Do not crush, swallow capsules whole.
Cautions
Consult a health care practitioner before use if you are pregnant, breastfeeding, have a medical condition, or if you are taking any medication. Consult a health care practitioner for use beyond 3 months. Keep out of reach of children. 
Disclaimer
*These statements have not been evaluated by the Food and Drug Administration. This product is not intended to diagnose, treat, cure, or prevent any disease.
Serving Size
Two Capsules / Servings Per Container: 30
Amount Per Serving
% Daily Value
Vitamin C (from ascorbic acid)
100 mg
111%
Zinc (from Zinc l-carnosine)
17.03 mg
155%
Mastic gum (Pistacia lentiscus)
400 mg
†
Potassium nitrate
202 mg
†
Carnosine (from zinc L carnosine)
57.6 mg
†
Ginger (Zingiber officinale) extract
50 mg
†
† Daily Value not established.
Other Ingredients: Potassium nitrate (202 mg), sodium alginate, microcrystalline cellulose, silicon dioxide, sodium stearyl fumarate, maltodextrin (corn), calcium carbonate, calcium chloride, hydrochloric acid and sodium hydroxide. Capsule: hypromellose.