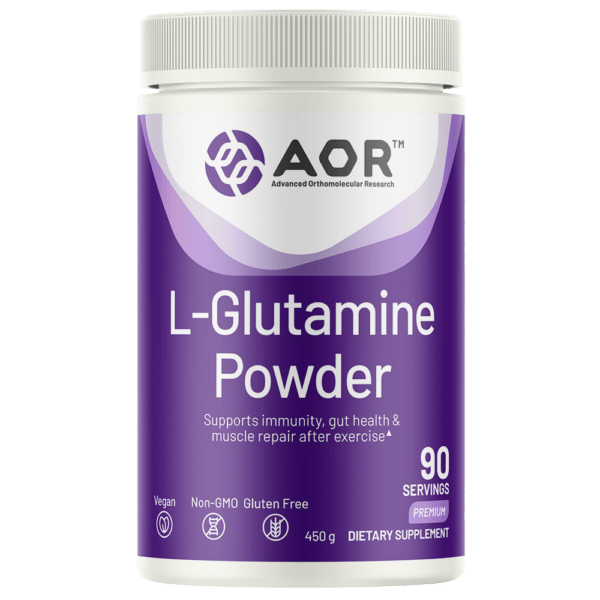 Supports immunity, gut health and muscle repair after exercise*
An amino acid that is vital in times of stress
Helps heal the gut lining
Essential for muscle building, preserving nitrogen balance and immunity
L-Glutamine is one of the 20 fundamental amino acids involved in protein synthesis. It is also the most abundant, forming approximately one-fifth of the amino acid pool in the human bloodstream. Glutamine is critical for a wide variety of essential functions, including optimal operation of the kidneys, pancreas, gall bladder, liver, the small and large intestines and the brain.
It is best known for boosting immunity, helping to heal the gut lining and enhancing muscle growth. L-Glutamine directly supports the immune system during times of stress through its ability to help produce glutathione, the body's most powerful antioxidant. It also indirectly supports immunity by reducing intestinal permeability or "leaky gut", inhibiting undigested particles from accessing the bloodstream, which can trigger an immune response.
AOR Advantage
AOR's L-Glutamine provides an effective dose of this important nutrient to support overall good health.
Discussion
L-Glutamine helps support immune and digestive system health after periods of physical stress. It is stored in the muscle and released during a trauma or illness, such as "leaky gut". L-Glutamine also assists in muscle cell repair after exercise. L- Glutamine is hypoallergenic.*
Guarantees
AOR™ guarantees that all ingredients have been declared on the label. Made without wheat, gluten, nuts, peanuts, sesame seeds, sulphites, mustard, soy, dairy, eggs, fish, shellfish or any animal by-product.
Directions
Take 5 grams (approx. 1 level scoop) in water per day on an empty stomach, or as directed by a qualified health care practitioner.
Cautions
Consult a health care practitioner prior to use if you are following a low protein diet or if you are pregnant or breastfeeding. This product contains corn do not use if you have an allergy.
Disclaimer
*These statements have not been evaluated by the Food and Drug Administration. This product is not intended to diagnose, treat, cure, or prevent any disease.
Serving Size
5 mg (approx. 1 level scoop) / Servings Per Container: 90
Amount Per Serving
% Daily Value
† Daily Value not established.
Other Ingredients: None.