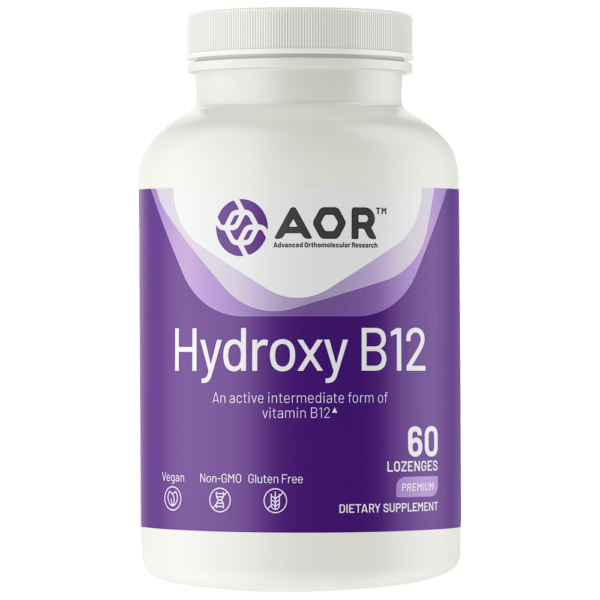 An active intermediate form of vitamin B12
Readily converted into active B12
Promotes cardiovascular health
Supports the nerves and detoxification
Superior to conventional cyanocobalamin
Vitamin B12 plays an essential role in red blood cell formation, cell metabolism and nerve function. A deficiency in vitamin B12 has been identified as one of the risk factors for several  conditions. Vitamin B12 (cobalamin) is one of the most complex vitamins in existence. It helps support the body's nerve and blood cell health, provides methylation support, and helps make DNA, the genetic material in all cells.
Because the human body does not make vitamin B12 or store it for long periods of time, it is important to supplement with this vitamin in order to stay healthy. B12 deficiencies are  particularly common among vegetarians, with one German study reporting that only 5.3% of vegetarians meet the recommended intake of B12. You can find B12 in animal-based foods, such as eggs, fish, meat and poultry, items that have been fortified and in supplements.
Vitamin B12 also helps support the body's ability to rid itself of cyanide from low-level exposure from environmental toxins.
AOR Advantage
AOR´s Hydroxy B12 supplement harnesses the power of hydroxocobalamin, an active and useful form of B12, in a convenient lozenge.
Discussion
Hydroxocobalamin is a unique form of vitamin B12, which is more readily converted into the coenzyme forms than conventional cyanocobalamin. This allows hydroxocobalamin to serve as an effective broad-spectrum form of vitamin B12.*
Guarantees
AOR™ guarantees that all ingredients have been declared on the label. Made without wheat, gluten, nuts, peanuts, sesame seeds, sulfites, mustard, soy, dairy, eggs, fish, shellfish or any animal byproduct.
Directions
Take one lozenge daily with or without food, or as directed by a qualified health care practitioner.
Cautions
Consult your physician before use if you are pregnant, lactating, have a medical condition, or are taking any medication. Keep out of reach of children. 
Disclaimer
*These statements have not been evaluated by the Food and Drug Administration. This product is not intended to diagnose, treat, cure, or prevent any disease.
Serving Size
One Lozenge / Servings Per Container: 60
Amount Per Serving
% Daily Value
B12 (Hydroxocobalamin)
1,000 mcg
41,667%
† Daily Value not established.
Other Ingredients: Xylitol, microcrystalline cellulose, hydroxypropyl cellulose, tapioca syrup and sodium stearyl fumarate.