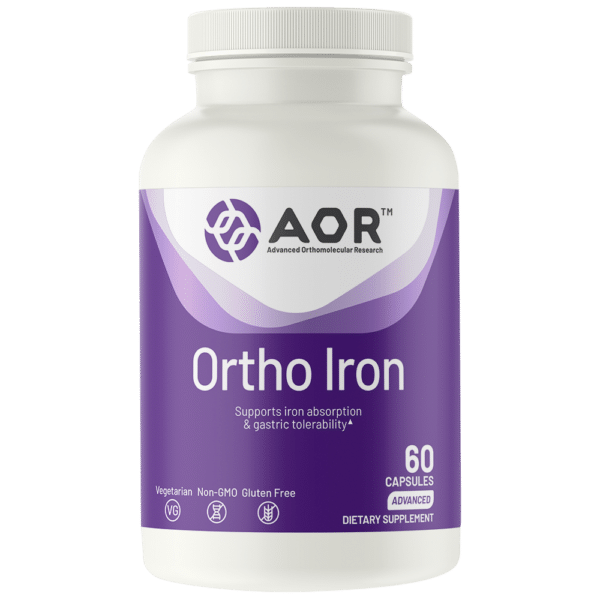 Supports iron absorption & gastric tolerability*
A good source of iron and B vitamins involved in healthy red blood cell formation
Contains a highly absorbable source of iron
Non-constipating, easy-to-digest formula
Ortho Iron™ is a complete formula that helps the body maintain healthy iron levels to promote healthy red blood cell formation. With a combination of high-quality ingredients, such as SunActive® iron, this supplement provides the necessary support for those who require more than what their diet alone provides in an easy-to-absorb formula.
Pregnant and menstruating women are often at risk of iron deficiency, as are adolescents, endurance athletes, and anyone who has experienced blood loss. Iron deficiency is the most common nutritional disorder in the world, with approximately 25% of the planet's population suffering. Iron-deficiency states may have detrimental effects on health, including compromised cognitive function, overall weakness and fatigue, and a weakening of the immune system.
Ortho Iron™ includes supporting nutrients such as vitamins C, B6 and B12, folic acid, and copper to enhance iron absorption, to further assist with red blood cell formation, and to prevent the oxidative effect sometimes associated with iron supplementation.
AOR Advantage
Ortho Iron™ is the most comprehensive formula of iron supplementation available, in doses proven by clinical research to be effective.
Discussion
Ortho Iron is formulated with the necessary cofactors to support iron absorption to help prevent iron deficiency.* Ortho Iron contains SunActive®Fe, an award-winning patented form of iron recognized for its superior bioavailability and gastric tolerability.
Guarantees
AOR™ guarantees that all ingredients have been declared on the label. Made without wheat, gluten, nuts, peanuts, sesame seeds, sulfites, mustard, eggs, fish or shellfish.
Directions
Take one capsule daily with food, or as directed by a qualified health care practitioner. Do not crush, blend or mix the capsules. Swallow the capsule whole.
Cautions
Take a few hours before or after taking other medications. Taking a daily prenatal multivitamin or mineral supplement along with this product may result in constipation, diarrhea, and/or vomiting due to the high intake of iron. Consult a health care practitioner prior to use if you are allergic to cow's milk/dairy products. Accidental overdose of iron-containing products is a leading cause of fatal poisoning in children under 6. Keep this product out of reach of children. In case of accidental overdose, call a doctor or poison control center immediately.
Disclaimer
*These statements have not been evaluated by the Food and Drug Administration. This product is not intended to diagnose, treat, cure, or prevent any disease.
Serving Size
1 Capsule / Servings Per Container: 60
Amount Per Serving
% Daily Value
Vitamin C (as ascorbic acid)
200 mg
222%
Iron (as SunActive®Fe - ferric pyrophosphate)
30 mg
167%
Vitamin B6 (as Pyridoxal-5'-phosphate)
25 mg
1470%
Copper (from copper citrate)
900 mcg
100%
Folate (as calcium L-5-MTHF)*
800 mcg
333%
Vitamin B12 (as Methylcobalamin)
647 mcg
26,958%
Lactoferrin (providing 14 mcg iron)
100 mg
†
† Daily Value not established. *Daily folate equivalent.
SunActive®Fe is a registered trademark of Taiyo International, Inc.
Other Ingredients: Microcrystalline cellulose, maltodextrin, sodium stearyl fumarate, and lecithin (sunflower). Capsule: hypromellose and purified water. Contains: milk and soy.