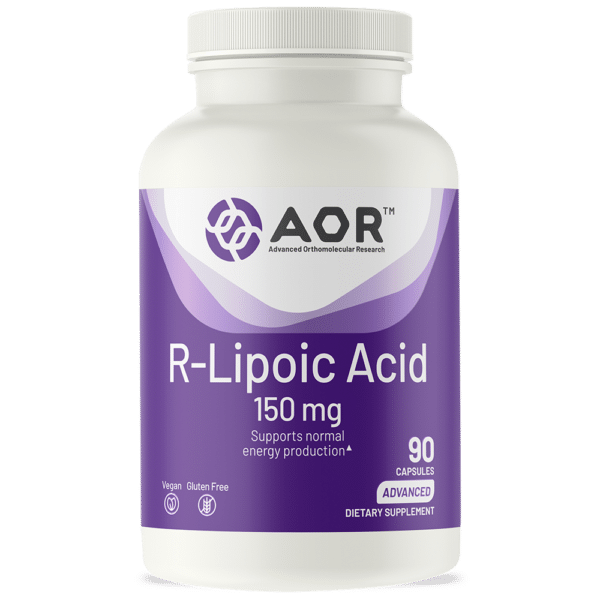 Supports normal energy production*
Provides metabolic and neurological support
The bodies optimal mitochondrial, healthy aging antioxidant
AOR was the first in the world to offer 95% pure R- alpha lipoic acid
AOR's R-Lipoic Acid helps to promote healthy glucose metabolism and provides antioxidants for the maintenance of good health. R-lipoic acid is a powerful, high-quality antioxidant that offers many benefits to the body such as maintaining healthy nerve formation, promoting brain health and increased energy formation in the mitochondria, and supporting overall health.  Antioxidants also benefit the body by neutralizing and removing free radicals from the bloodstream which can slow the aging process.
AOR Advantage
AOR's 95% pure R-Lipoic Acid delivers the most effective form of this valuable antioxidant without the counterproductive activities of S-lipoic acid. R-lipoic acid is a powerful, natural, and well-rounded antioxidant for those looking for a supplement that supports healthy aging.
Discussion
AOR's R-Lipoic Acid provides the natural 'R' form of this vital antioxidant produced in the body for the maintenance of good health and helps the body metabolize carbohydrates, unlike supplements which also contain equal amounts of the synthetic, inactive 'S' form. The natural 'R' form is more potent than the S-form, and in some cases, the S-form interferes with R-lipoic acids actions in the body.*
Guarantees
AOR guarantees that all ingredients have been declared on the label. Made without wheat, gluten, corn, nuts, peanuts, sesame seeds, sulfites, mustard, soy, dairy, eggs, fish, shellfish or animal by-product.
Directions
Take one capsule one to three times a day with or without food, or as directed by a qualified health care practitioner.
Cautions
Consult your physician if you are pregnant or lactating or if you have a medical condition, or are taking any medication. Keep out of reach of children.
Disclaimer
*These statements have not been evaluated by the Food and Drug Administration. This product is not intended to diagnose, treat, cure, or prevent any disease.
Serving Size
1 Capsule / Servings Per Container: 90
Amount Per Serving
% Daily Value
Sodium (from R-lipoic acid sodium salt)
17 mg
0.7%
R(α) lipoic acid (sodium salt)
150 mg
†
† Daily Value not established.
Other Ingredients: Dicalcium phosphate, sodium stearyl fumarate, microcrystalline cellulose. Capsule: hypromellose