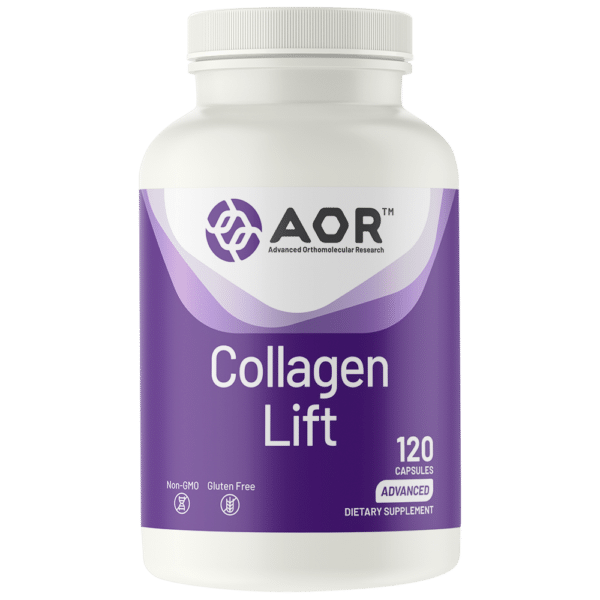 Absorbable collagen for skin structure*
Improves skin health
Mimics collagen & elastin ratios found in skin
Sustainably produced
Clinically studied
Collagen Lift, is marine sourced hydrolyzed elastin and collagen. It helps to reduce wrinkles and skin dryness. Elastin fibers give the dermis suppleness that completes collagen fibers' tensile strength and helps to fight off visual signs of aging and rejuvenate skin. With its low molecular weight, Collagen Lift is water-soluble and fully digestible for optimal bioavailability.
AOR Advantage
Collagen Lift brings together hydrolyzed elastin and collagen as well as essential amino acids and is marine sourced. Elastin is a skin conditioner and booster that helps skin maintain its elasticity as you age. As skin ages, elastin fibers are reduced, leading to a loss in flexibility in the skin. Collagen helps fight off the visual signs of aging and can help to eliminate harmful toxins.
Discussion
Clinically shown to reduce the number of deep wrinkles in four weeks (28 days). *
Guarantees
AOR™ guarantees that all ingredients have been declared on the label. Made without wheat, gluten, corn, nuts, peanuts, sesame seeds, sulphites, mustard, soy, dairy or eggs.
Directions
Take one to four capsules once a day, or one to two capsules twice a day with or without food, or as directed by a health care practitioner. Do not crush, blend or mix capsules. Swallow capsules whole.
Cautions
Consult your physician before use if you're pregnant, breastfeeding, have a medical condition, or if you're taking any medication. Keep out of reach of children.
Disclaimer
*These statements have not been evaluated by the Food and Drug Administration. This product is not intended to diagnose, treat, cure, or prevent any disease.
Serving Size
One Capsule / Servings Per Container: 120
Amount Per Serving
% Daily Value
Hydrolyzed Collagen (*Collactive™)
500 mg
†
† Daily Value not established.
Other Ingredients: None. Capsule: Hypromellose. Contains: Fish.