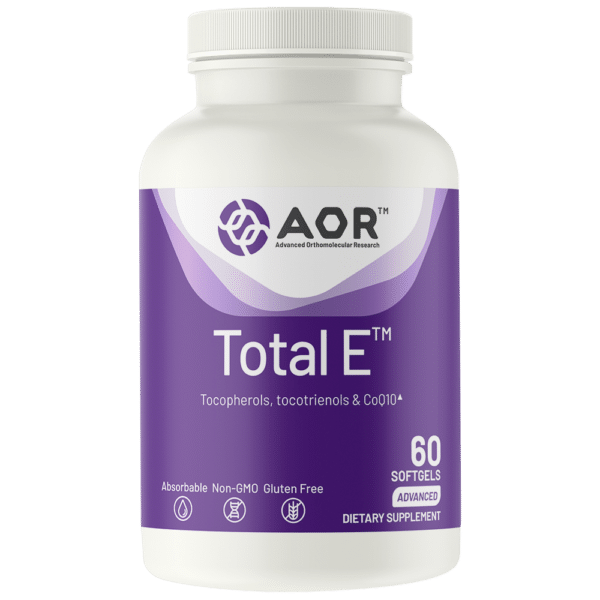 Tocopherols, tocotrienols & CoQ10
Helps support healthy cardiovascular function
Supports optimal prostate and cognitive health
The first complete E-complex in North America
Contains eight vitamers and coenzyme Q10
Introduced in 2001, Total E™ is the first complete, balanced, natural E-complex that contains only natural ingredients and provides all eight distinct vitamin E molecules that make up the  vitamin E complex. The formula also contains coenzyme Q10, which helps increase the body's antioxidant activity and supports cardiovascular health, neurological health, skin health and more.
Vitamins are very important for helping to maintain the body's health, and each vitamin has its own properties and functions for the human body. Vitamin E is often used to help keep skin healthy and youthful. It also supports blood health, vision, the reproductive system and brain, and it is especially important due to its role as an antioxidant as one of five components of the body's antioxidant network.
AOR Advantage
AOR's Total E™ promotes healthy and youthful skin, as well as providing support for blood pressure, vision, the reproductive system and the brain, in a convenient one-a-day softgel.
Discussion
Total E™ is the first truly balanced, complete E-complex supplement. Vitamin E is not just alpha-tocopherol, and not just "mixed tocopherols" either. Total E™ includes eight distinct vitamin E molecules (or "vitamers"): four tocopherols and four tocotrienols. Different members of the vitamin E family have unique functions not shared by other E vitamers. Coenzyme Q10 is also included for additional support.*
Guarantees
AOR™ guarantees that all ingredients have been declared on the label. Made without wheat, gluten, nuts, peanuts, sesame seeds, mustard, dairy, eggs, fish or shellfish.
Directions
Take one softgel daily with a fat-containing meal, or as directed by a qualified health care practitioner. An extra softgel should be taken for each 200 IU of alpha-tocopherol in any other supplements you may be taking.
Cautions
Consult your physician before use if you are pregnant, lactating, have a medical condition, or if you're taking any medication (e.g. blood pressure medication or blood thinners like warfarin). Keep out of reach of children.
Disclaimer
*These statements have not been evaluated by the Food and Drug Administration. This product is not intended to diagnose, treat, cure, or prevent any disease.
Serving Size
1 Softget / Servings Per Container: 60
Amount Per Serving
% Daily Value
Vitamin E (as d-alpha-tocopherol)
65 mg (97 IU)
433%
Mixed Tocopherols
300 mg
†
Mixed tocotrienols
50 mg
†
Coenzyme Q10 (as Ubiquione from natural-biofermentation)
30 mg
†
† Daily Value not established.
Other Ingredients: Olive and soybean oil. Softgel: gelatin, glycerin and caramel powder. Contains: soy and sulphites.
Sources: alpha-tocopherol: soybean and palm fruit. Other tocopherols: Soybean. Tocotrienols: Palm fruit.