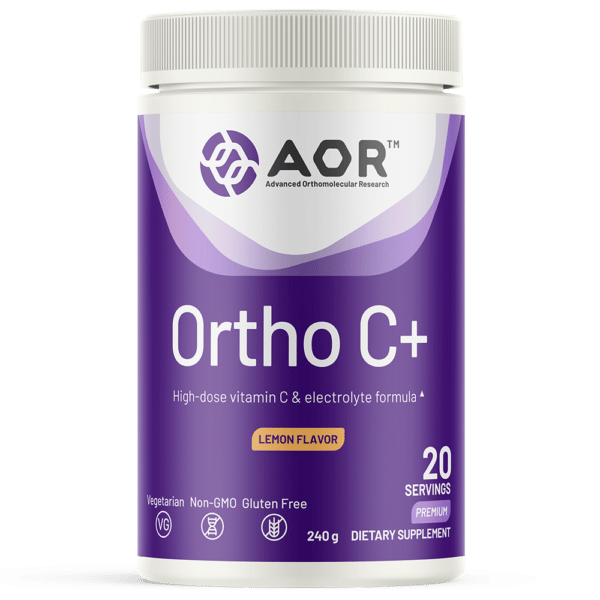 High-dose vitamin C & electrolyte formula
Increases collagen synthesis
Promotes healthy blood vessels
Based on Linus Pauling's research on high-dose vitamin C
AOR's Ortho C+ provides proper doses of the nutrients necessary for helping maintain and support cardiovascular health. Maintaining heart health is imperative for a long, healthy life. Although the steps to achieve heart health are relatively simple, the western lifestyle makes it difficult for the majority of adults to stay on track. Physical activity, balanced nutrition, and low levels of stress all help maintain a healthy heart. The right supplement can also help support cardiovascular health.
AOR Advantage
AOR's Ortho C+ contains an unprecedented combination of nutrients to keep blood vessels strong and support arterial health. Ortho C+ is ideal for those looking for a high-dose vitamin C formula or electrolyte formula, or for those who are concerned about their cardiovascular health.
Discussion
Ortho C+ is formulated based on the research of Linus Pauling and Matthias Rath on lipoprotein(a) [Lp(a)]. Ortho C+ contains vitamin C, amino acids, and cofactors.*  The ingredients in Ortho C+ help maintain and support good health, and help to maintain normal muscle function.
Guarantees
AOR™ guarantees that all ingredients have been declared on the label. Made without egg.
Directions
Stir one level scoop (approx. 12.3g) into a glass of water or juice once daily, or as directed by a qualified health care practitioner.
Cautions
Consult your physician before use if you are pregnant, lactating, have a medical condition, or are taking any medication. Keep out of reach of children.
Disclaimer
*These statements have not been evaluated by the Food and Drug Administration. This product is not intended to diagnose, treat, cure, or prevent any disease.
Serving Size
1 Level Scoop / Servings Per Container: 20
Amount Per Serving
% Daily Value
Vitamin C (as ascorbic acid from calcium and magnesium ascorbates)
3000 mg
3333%
Calcium (from calcium carbonate, calcium ascorbate)
545 mg
42%
Magnesium (from magnesium carbonate, magnesium ascorbate)
340 mg
81%
Potassium (from potassium bicarbonate)
99 mg
2%
† Daily Value not established.
Other Ingredients: Silicon dioxide, natural flavor (lemon), gum Arabic, maltodextrin, dextrose, tricalcium phosphate, calcium stearate.