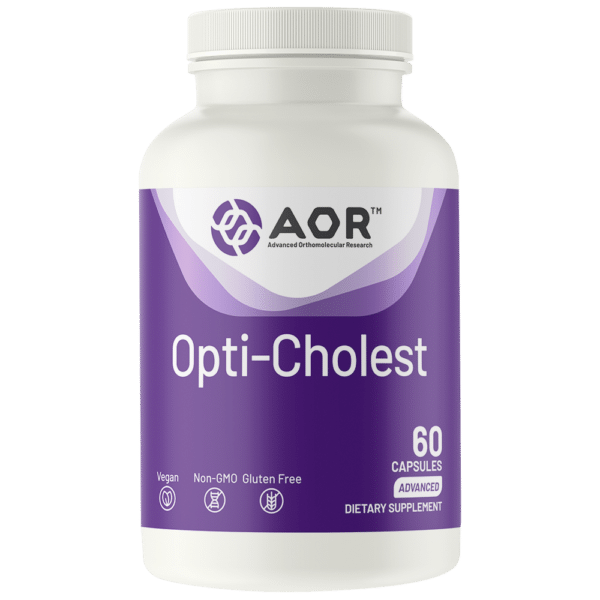 Bergamot extract to support healthy cholesterol levels*
Helps in maintaining healthy cholesterol levels
Bergamot provides antioxidant and inflammatory response support
Premium formula enhanced by our proprietary bergamot extract
AOR's Opti-Cholest™ formula uses a proprietary extract of bergamot, called Bergavit, which contains a diverse and highly concentrated flavonoid profile that makes it beneficial for helping to maintain healthy cardiovascular processes. Flavonoids are a group of plant molecules found in a variety of fruits and vegetables that are thought to provide health benefits through cell signaling pathways and antioxidant effects.
The polyphenols in bergamot, which help to protect the body's tissues against oxidative stress, contain properties common to other citrus flavonoids (i.e., antioxidant and inflammatory response properties). Bergamot is rich in several phenolic compounds that possess antioxidant properties as well as supporting healthy cholesterol and inflammatory responses.
AOR Advantage
AOR's Opti-Cholest™ is a premium supplement that harnesses the benefits of bergamot to deliver  convenient support for healthy cholesterol levels.
Discussion
The bergamot in Opti-Cholest helps support healthy HDL:LDL ratio, which is important for cardiovascular health.*
Guarantees
AOR™ guarantees that all ingredients have been declared on the label. Made without wheat, gluten, nuts, peanuts, sesame seeds, sulfites, mustard, soy, dairy, eggs, fish, shellfish or any animal by-product.
Directions
Take two capsules daily before a meal containing fat, or as directed by a qualified health care practitioner. Do not crush, mix, or blend capsules. Swallow capsules whole.
Cautions
Consult your physician before use if you are pregnant, lactating, have a medical condition, or are taking any medication. Keep out of reach of children.
Disclaimer
*These statements have not been evaluated by the Food and Drug Administration. This product is not intended to diagnose, treat, cure, or prevent any disease.
Serving Size
2 Capsules / Servings Per Container: 30
Amount Per Serving
% Daily Value
Bergamot fruit extract (25-28% flavonoids 250 mg)
1000 mg
†
† Daily Value not established.
Other Ingredients: maltodextrin, sodium stearyl fumarate and silicon dioxide. Capsule: hypromellose.