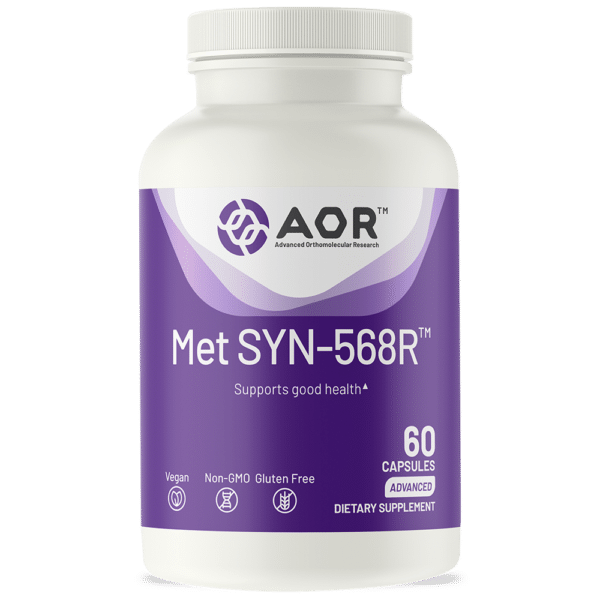 Supports healthy cholesterol levels*
Statin-free supplement to support normal cardiovascular function
Supports healthy cholesterol levels
Made with Ankaskin®-568R
AOR's Met SYN-568R™ is red yeast rice formulated with Ankascin® 568-R. Red yeast rice is made by fermenting a type of yeast called Monascus purpureus, a traditional Chinese culinary  and medicinal product grown on white rice. Red yeast rice has been clinically shown to promote healthy cholesterol levels. The fermentation of red yeast rice results in the production of a number of different compounds, including various monacolins, monascin, and ankaflavin, which are used to manage cholesterol levels.
One of red yeast rice's compounds, monacolin K, is chemically identical to lovastatin, a synthetically produced pharmaceutical drug used in cholesterol management. Since these  compounds are identical, they can exhibit the same side effects, such as muscle pain and breakdown. AOR's MET SYN-568R™ is subjected to a process that removes monacolin K, which  means that it will not produce statin-like side effects. Rather, its benefits are due to the other compounds in red yeast rice extract, which also have cholesterol balancing activity, and do not produce these side effects.
AOR Advantage
AOR's Met SYN-568R™ promotes healthy cardiovascular function without the undesirable side effects of monacolin K.
Discussion
Met SYN-568R™ supports healthy cholesterol levels and provide antioxidants.*
Guarantees
AOR™ guarantees that all ingredients have been declared on the label. Contains no wheat, gluten, nuts, peanuts, sesame seeds, sulphites, mustard, soy, dairy, eggs, fish, shellfish or any animal by-products.
Directions
Take one to two capsules, one to two times a day with food, or as directed by a qualified health care practitioner. Do not crush, mix or blend capsules. Swallow capsules whole.
Cautions
Do not use if you are pregnant or plan to become pregnant. Consult your physician if you are breastfeeding, have a medical condition, or if you're taking any medication particularly cyclosporine, blood thinners, blood lipid lowering medications, blood pressure medications or antidiabetic drugs, or suffer from liver or kidney disease or have received an organ transplant. Keep out of reach of children. If you experience muscle pain, tenderness and/or weakness, discontinue use and consult a health care practitioner.
Disclaimer
*These statements have not been evaluated by the Food and Drug Administration. This product is not intended to diagnose, treat, cure, or prevent any disease.
Serving Size
One Capsule / Servings Per Container: 60
Amount Per Serving
% Daily Value
Red Yeast Rice extract
110 mg
†
† Daily Value not established.
Other Ingredients: Corn starch, microcrystalline cellulose. Capsule: hypromellose and purified water.