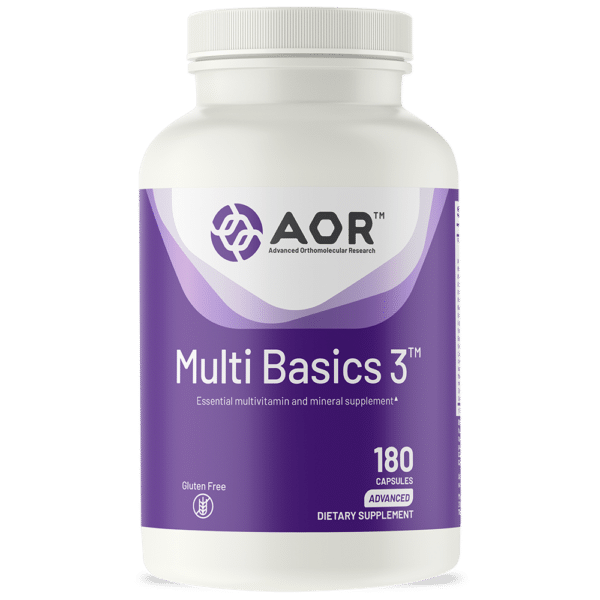 Essential multivitamin and mineral supplement*
Uses properly balanced doses and ratios
Contains nutrients in amounts found in an optimal diet
Includes all recognized essential nutrients in superior forms
AOR's Multi Basics 3™ is a balanced and well-designed multivitamin and multimineral supplement that combines key nutrients and delivers them to the body. Our formula works in the body by providing all recognized essential nutrients in adequate doses and balanced ratios that are useable and highly absorbable. Multi Basics 3™ provides nutrients in amounts that  reflect the quantities found in optimally balanced diets, which have been shown to positively impact health. AOR's formula supports foundational health with a combination of balanced  vitamin complexes in amounts that reflect biological needs, allowing for nutrients to be absorbed more efficiently.
This premium multivitamin provides all eight forms of vitamin E to ensure you get the maximum benefits. It also contains a balanced ratio of B vitamins, from vitamin B1 for the  metabolism of carbs, to vitamin B12 for fatigue. It features a well-balanced zinc-to-copper ratio, 500IU of preformed vitamin A, beta-carotene, and manganese. Our formula also contains calcium citrate-malate, which has greater bioavailability than other vegetarian forms of calcium; choline, an essential nutrient required for normal cellular structure and function; and  inositol, for the support of cellular defenses.
AOR Advantage
AOR Multi Basics 3™ is carefully manufactured to meet the daily requirements of all essential nutrients, making it the ideal supplement to support your foundational health.
Discussion
Multi Basics 3™ includes all recognized essential vitamins as part of a multivitamin/mineral complex for the maintenance of good health. It also helps normal growth and development.
Guarantees
AOR™ guarantees that all ingredients have been declared on the label. Made without wheat, gluten, nuts, peanuts, sesame seeds, sulfites, mustard, dairy, eggs, fish, shellfish, and any animal by-product.
Directions
Take one capsule one to three times a day with a meal containing fat, or as directed by a qualified health care practitioner. Take a few hours before or after taking other medications. Do not crush, mix, or blend capsules. Swallow capsules whole.
Cautions
Consult your physician before use if you are pregnant or lactating. Consult your physician if you have a medical condition, or are taking any medication.  Keep out of reach of children. Do not use if you are allergic to plants of the Asteraceae/Compositae/Daisy family. Consult a health care practitioner prior to use if you are taking blood thinners or any prescription drugs, as phytonutrients in this supplement may affect their metabolism or bioavailability. Consult a health care practitioner for use beyond 12 weeks.
Disclaimer
*These statements have not been evaluated by the Food and Drug Administration. This product is not intended to diagnose, treat, cure, or prevent any disease.
Serving Size
3 Capsules / Servings Per Container: 60
Amount Per Serving
% Daily Value
Vitamin C (from magnesium ascorbate)
120 mg
133%
Vitamin D3 (as Cholecalciferol)
25 mcg/1000 IU
125%
Vitamin K2 (MK-4, MK-7)
120 mcg
100%
Thiamin (Vitamin B1)
9 mg
750%
Riboflavin (Vitamin B2)
2.5 mg
192%
Niacin (Vitamin B3 from inositol hexanicotinate)
115 mg
718%
Vitamin B6 (as Pyridoxine HCl)
25 mg
1471%
Folate (as Calcium L-5-MTHF)
800 mcg
120%
Vitamin B12 (as methylcobalamin)
647 mcg
26,958%
Vitamin B5 (as Calcium D-pantothenate)
100 mg
2000%
Calcium (from calcium citrate malate, calcium pantothenate)
65 mg
5%
Iodine (from potassium iodide)
150 mcg
100%
Magnesium (from magnesium citrate, magnesium ascorbate)
60 mg
14%
Zinc (from zinc citrate)
11 mg
100%
Selenium (as Selenomethionine)
55 mcg
100%
Copper (from copper citrate)
1.5 mg
166%
Manganese (from manganese bisglycinate)
2.3 mg
100%
Chromium (from chromium picolinate)
100 mcg
285%
Molybdenum (from Na molybdate)
45 mcg
100%
Boron (from boron citrate)
700 mcg
†
Silicon (as HVP chelate)
5 mg
†
Vanadium (from vanadium citrate)
18 mcg
†
Mixed Tocopherols
100 mg
†
Mixed Tocotrienols (from palm)
10 mg
†
Choline (bitartrate)
100 mg
†
Inositol (from inositol, Inositol Hexanicotinate)
100 mg
†
Mixed Citrus Bioflavonoids
25 mg
†
Quercetin (dihydrate)
65 mg
†
†Daily Value not established.
Other ingredients: dicalcium phosphate, silicon dioxide, dextrin (tapioca, corn), tocopherols, sodium stearyl fumarate, cellulose gum, ascorbyl palmitate, sucrose, maltodextrin (corn), starch (modified food, corn, soy, rice, tapioca), glycine, olive oil, tricalcium phosphate, acacia gum, citric acid, L-aspartic acid, sodium ascorbate, talcum, palm, coconut oil and hyprolose.