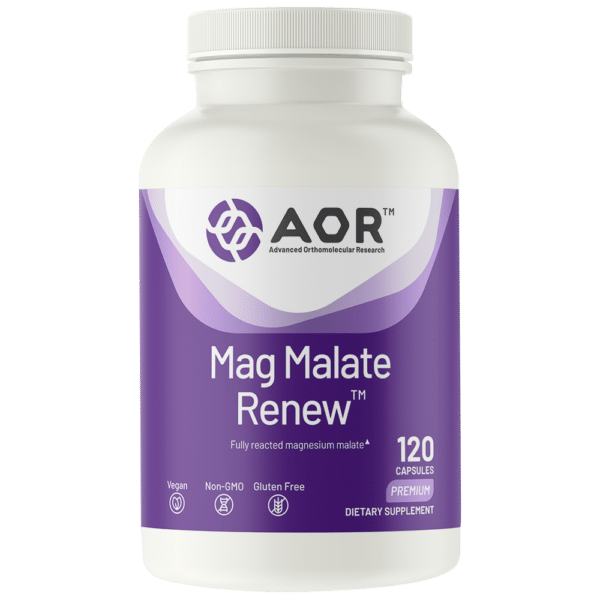 Fully reacted magnesium malate
Fully reacted magnesium malate
A true chelate of magnesium and malic acid
Promotes optimal muscle function and energy
Mag Malate Renew™ is a 100% pure combination of magnesium and malic acid. Malic acid is ionized in the body to form malate, which is a key intermediate in the energy production cycle that makes ATP, the fuel that allows cells to function. Low levels of ATP are commonly found in people suffering from discomfort and are believed to play a significant role in the physical and mental symptoms of the condition.
Magnesium is a mineral that is involved in over 300 biochemical processes in the body. One of its most important functions is that it plays a key role in producing energy and maintaining muscle and nerve function. Unfortunately, most people do not have sufficient levels of this essential mineral for optimal health. Studies suggest that 50-90% of people are deficient in magnesium.
AOR Advantage
AOR's Mag Malate Renew™ formula is a true chelate of magnesium and malic acid, which helps support the daily intake needed to avoid the undesirable consequences of magnesium deficiencies.
Discussion
Mag Malate Renew™ is fully reacted magnesium malate. It provides the essential mineral magnesium along with malic acid.* Magnesium helps maintain proper muscle function, metabolize carbohydrates, proteins and fats, and is a factor in the maintenance of good health.
Guarantees
AOR™ guarantees that all ingredients have been declared on the label. Made without wheat, gluten, corn, peanuts, sesame seeds, sulphites, mustard, soy, dairy, eggs or any animal by-product.
Directions
Take one capsule one to three times daily with food, or as directed by a qualified health care practitioner. Increase servings from one to three capsules gradually. Do not crush, blend or mix capsules. Swallow capsules whole.
Cautions
Consult your physician before use if you're pregnant, lactating, have a medical condition, or if you're taking any medication. Keep out of reach of children.
Disclaimer
*These statements have not been evaluated by the Food and Drug Administration. This product is not intended to diagnose, treat, cure, or prevent any disease.
Serving Size
One Capsule / Servings Per Container: 120
Amount Per Serving
% Daily Value
Magnesium (from magnesium malate dihydrate)
100 mg
24%
Malic acid (from magnesium malate dihydrate)
545 mg
†
† Daily Value not established.
Other Ingredients: Microcrystalline cellulose and sodium stearyl fumarate. Capsule: hypromellose and purified water.