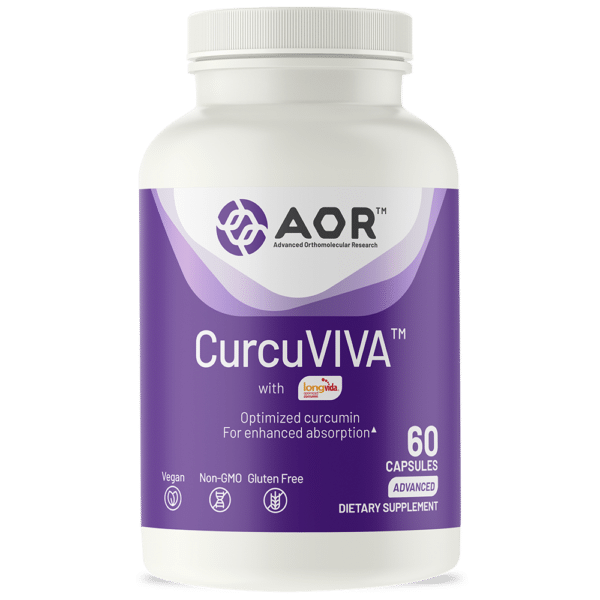 Optimized curcumin for enhanced absorption*
Allows slow breakdown by the body
Optimized curcumin from turmeric
Remains in the bloodstream for up to 24 hours
Supplementing with CurcuVIVA™, along with leading a healthy lifestyle may provide the necessary support for the joint issues suffered by millions of Americans each year. In many cases, joint issues are related to the body's inflammatory response triggered by our lifestyle and diet. Establishing good habits and leading a healthy lifestyle and supplementing with curcumin may provide the necessary support.
While the power and health properties of curcumin have been revered in India since ancient times, it is difficult for the body to absorb. Curcumin can only dissolve in fat – not water – once it reaches our digestive system, most of it is eliminated and not used by the body. AOR's CurcuVIVA™ uses Longvida® Optimized Curcumin extract, which is specially formulated to provide a solution to the curcumin conundrum of low bioavailability, poor absorption and rapid breakdown.
AOR Advantage
AOR's CurcuVIVA™ utilizes the medicinal properties of curcumin to help maintain healthy digestion, liver and gallbladder. The CurcuVIVA™ premium formula provides free-state  curcumin that retains its "unbroken" form, which makes it  stable, concentrated, and able to retain maximum effectiveness for up to 24 hours.
Discussion
Curcumin is a key component in turmeric root, traditionally used in Ayurvedic medicine. CurcuVIVATM  is a highly absorbable curcumin formula that is free from rapid excretion.*
Guarantees
AOR™ guarantees that all ingredients have been declared on the label. Contains no wheat, gluten, nuts, peanuts, sesame seeds, sulphites, mustard,  dairy, eggs, fish, shellfish or any animal by-product.
Directions
Take one capsule per day with/without food, or as directed by a qualified health care practitioner. Do not crush or break, swallow capsules whole.
Cautions
Consult a health care practitioner prior to use if you are pregnant, breastfeeding, have a medical condition, or if you're taking any medication. Keep out of reach of children.
Disclaimer
*These statements have not been evaluated by the Food and Drug Administration. This product is not intended to diagnose, treat, cure, or prevent any disease.
Serving Size
One Capsule / Servings Per Container: 60
Amount Per Serving
% Daily Value
Longvida® Optimized Curcumin Extract (from Curcuma longa root)
80 mg
†
†Daily Value not established. ǂLONGVIDA® is a registered trademark of Verdure Sciences Inc. International patent pending.
Other Ingredients: stearic acid, maltodextrin, soy lecithin, ascorbyl palmitate, silicon dioxide,  sodium stearyl fumarate and microcrystalline cellulose. Capsule: hypromellose. Contains: soy and corn.