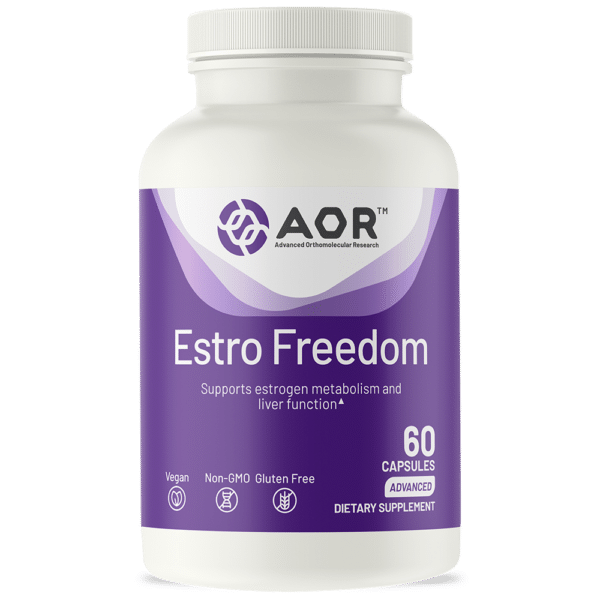 Supports estrogen metabolism and liver function*
Supports balanced levels of bad and good estrogens
Promotes healthy estrogen metabolism and excretion
Supports healthy and regular menstruation
Estro Freedom is a premium formula that combines several nutrients that support healthy estrogen metabolism and balance, promote detoxification, and favor a healthy, regular  menstrual cycle, all while also promoting the production of good estrogens over bad estrogens. Women's health is directly linked to estrogens because these hormones are required
for more than 400 functions in the body.
Estrogen promotes the development and maintenance of female characteristics in the human body, and they play an essential role in the growth and development of female secondary sexual characteristics, such as breasts, pubic and armpit hair, and the regulation of the menstrual cycle and reproductive system. As important as these hormones are, there are good and bad kinds of estrogens, and an imbalance of these hormones can lead to a range of health problems and unwanted changes.
AOR Advantage
AOR's Estro Freedom is a science-backed formula that encourages the balancing of female hormones, helping support the liver in clearing out excess estrogen from the body. This  premium formula is an excellent supplement for women as they age and need support to maintain a healthy balance of estrogen levels.
Discussion
Estro Freedom is a multi-nutrient combination. It includes cutting edge ingredients such as D-glucarate, DIM, SGS from broccoli, choline, and hops extract. Promotes healthy estrogen balance.
Guarantees
AOR™ guarantees that all ingredients have been declared on the label. Made without wheat, gluten, nuts, peanuts, soy, dairy, eggs, fish, shellfish or any animal by-product.
Directions
Take two capsules daily with food or as directed by a qualified health care practitioner. Do not crush, blend or mix capsules, swallow capsules whole.
Cautions
Do not take if pregnant or breastfeeding. Consult a health care practitioner if you are attempting to conceive, taking hormone replacement therapy, birth control pills or other medications. Consumption of hops with alcohol, other medications, and/or natural health products with sedative properties is not recommended. Some people may experience drowsiness. Exercise caution if operating heavy machinery, driving a motor vehicle, or are involved in activities requiring mental alertness. Discontinue use if you experience joint pain or hot flashes. Discontinue use and consult a health care practitioner if you experience irregular menstruation. May temporarily alter urine color, consult a health care practitioner if urine does not normalize upon discontinued use. Keep out of reach of children
Disclaimer
*These statements have not been evaluated by the Food and Drug Administration. This product is not intended to diagnose, treat, cure, or prevent any disease.
Serving Size
Two Capsules / Servings Per Container: 30
Amount Per Serving
% Daily Value
Choline (from choline bitartrate)
27.6 mg
5%
Broccoli (Brassica Oleracea) seed extract
300 mg
†
Calcium D-Glucarate
150 mg
†
LIFENOL® Hops extractǂ
120 mg
†
DIM (3,3'-diindolylmethane)
108 mg
†
† Daily Value not established. ‡ LIFENOL® is a registered trademark of Naturex, Inc. **Produced under patent US2006/010032 licensed from Caudill Seed Inc.
Other Ingredients: microcrystalline cellulose and silicon dioxide. Capsule: hypromellose.