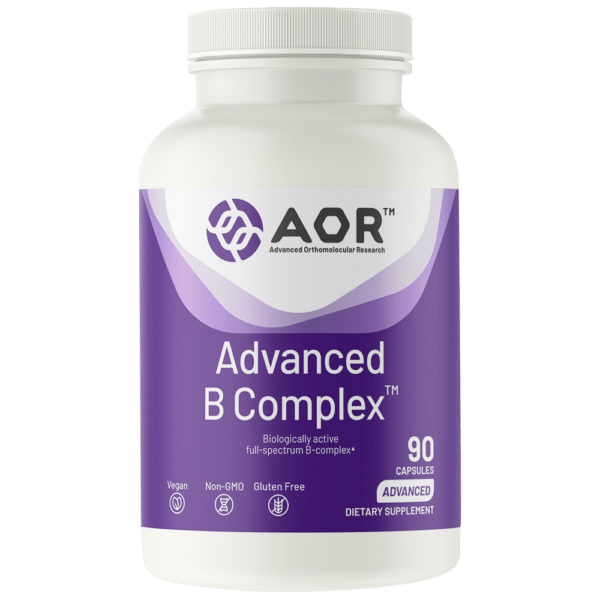 Biologically active full spectrum B complex
• Provides the most active forms of B vitamins
• Balanced ratios and clinically supported doses
• Support for energy, stress, metabolism and nerve function
Advanced B Complex™ from AOR delivers the most efficient, biologically active forms of these vitamins in balanced doses, ensuring you get the best results. The vitamins contained in  Advanced B Complex™ are collectively responsible for maintaining healthy cellular processes such as the metabolism of proteins, carbohydrates and fats; they also act as coenzymes for the process of detoxification.
B complex is an officially recognized grouping of eight essential vitamins with important roles in the body including metabolic health, nerve health, stress support and more.
AOR Advantage
Advanced B Complex™ delivers the biologically active and most efficient forms of these vitamins in balanced ratios and research backed doses.
Discussion
Advanced B Complex™ was designed to provide the most advanced forms of B vitamins in the most scientifically discerning ratios available to help in the formation of red blood cells. Advanced B Complex™ contains benfotiamine, a form of vitamin B1 that is more bioavailable than other forms of thiamin, as well as pyridoxal-5'-phosphate (P5P), methylcobalamin and L-5-methyltetrahydrofolate, bio-active forms of vitamin B6, B12 and folic acid respectively which aids in maintaining the body's ability to metabolize nutrients.*
Guarantees
AOR™ guarantees that all ingredients have been declared on the label. Made without wheat, gluten, nuts, peanuts, sesame seeds, sulfites, mustard, soy, dairy, eggs, fish, shellfish or any animal by-product.
Directions
Take 1 capsule 1-3  times daily with food, or as directed by a qualified health care practitioner. Do not crush, mix or blend capsules. Swallow capsules whole.
Cautions
Consult your physician before use if you are pregnant, lactating, have a medical condition, or are taking any medication.  Keep out of reach of children.
Disclaimer
*These statements have not been evaluated by the Food and Drug Administration. This product is not intended to diagnose, treat, cure, or prevent any disease.
Serving Size
One Capsule / Servings Per Container: 90
Amount Per Serving
% Daily Value
Thiamine (B1 as Benfotiamine)
33 mg
2,750%
Riboflavin (B2 as Riboflavin-5-phosphate sodium)
2.5 mg
192%
Niacin (vitamin B3)
118 mg
737%
B6 (as pyridoxal-5'-phosphate)
33 mg
1,941%
Folic acid (as calcium L-5-MTHF)
555 mcg DFE* (333 mcg folic acid)
139%
B12 (as methylcobalamin)
333 mcg
13,875%
Pantothenic acid (B5 as calcium D-pantothenate, pantethine)
100 mg
2,000%
Choline bitartrate
80 mg
15%
Inositol (as inositol, inositol hexanicotinate)
131 mg
†
†Daily Value not established. *Dietary Folate Equivalent
Other Ingredients: microcrystalline cellulose, dicalcium phosphate, silicon dioxide, sodium stearyl fumarate. Capsule: hypromellose and chlorophyll.