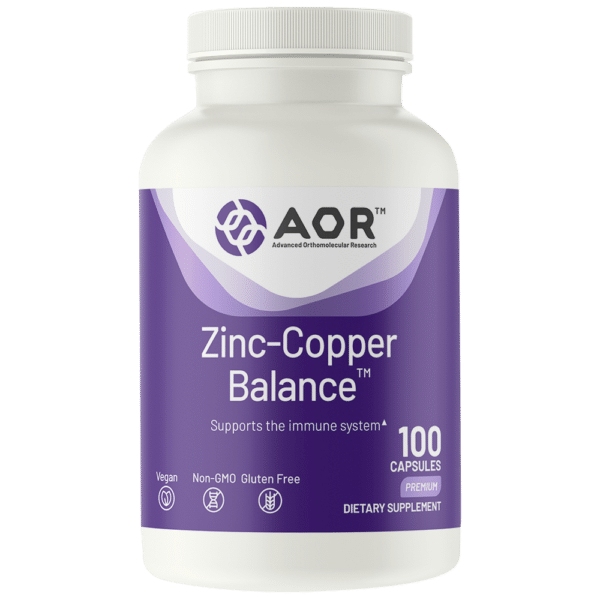 Supports the immune system*
Balanced ratio of two key minerals
Helps reduce the risk of excess zinc
Supports healthy skin, prostate and immunity
Zinc is an essential micronutrient required for many enzyme reactions and bodily functions. It is essential for growth and physical development, and for the metabolism of proteins, fats,  and carbohydrates. Unfortunately, zinc deficiency is common, especially in the elderly. A zinc deficiency may play a role in many chronic diseases, but it is best known for its pivotal role in the immune system. It is essential for the function of white blood cells to protect the body from invasion by bacteria and viruses and to regulate inflammation and wound healing. Zinc is  also a key factor in the healing of the digestive lining, which in many people is damaged and "leaky". Clinically, zinc supplementation has been shown to be vital for prostate health.
AOR Advantage
AOR's Zinc-Copper Balance™ provides a balanced, research-based ratio of zinc to copper, each in various forms in order to ensure optimal absorption and function.
Discussion
Zinc and copper are essential minerals critical to the maintenance of good health. Zinc-Copper Balance™ provides a balanced ratio of zinc to copper, each in various forms in order to ensure optimal absorption.
Guarantees
AOR™ guarantees that all ingredients have been declared on the label. Made without wheat, corn, gluten, peanuts, sesame seeds, mustard, sulfites, dairy, eggs or any animal by-product.
Directions
Take one capsule daily with food, or as directed by a qualified health care practitioner. Take a few hours before or after taking other medications. Do not crush, mix or blend capsules. Swallow capsules whole.
Cautions
Consult your physician before use if you are pregnant, lactating, have a medical condition, or are taking any medication. Keep out of reach of children.
Disclaimer
*These statements have not been evaluated by the Food and Drug Administration. This product is not intended to diagnose, treat, cure, or prevent any disease.
Serving Size
1 Capsule / Servings Per Container: 100
Amount Per Serving
% Daily Value
Zinc (from zinc citrate and zinc succinate)
15 mg
136%
Copper (from copper citrate)
2 mg
222%
Other Ingredients: Microcrystalline cellulose, silicon dioxide and sodium stearyl fumarate. Capsule: hypromellose. Contains: soy.