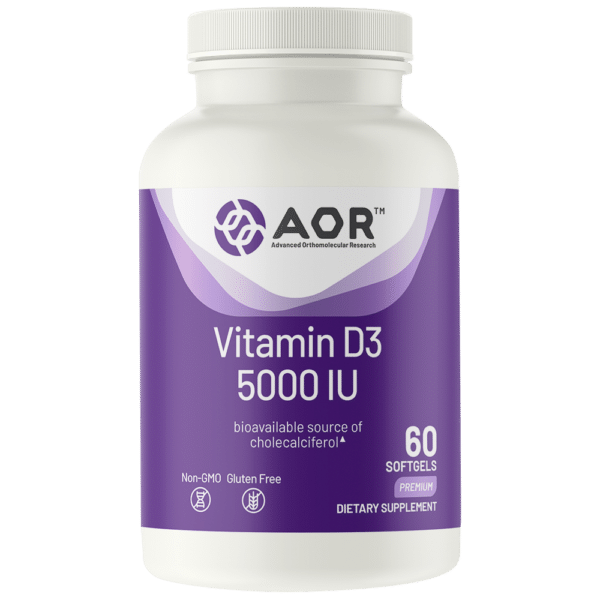 Bioavailable, high dose D3
High dose vitamin D3
Supports the immune system and mood balance
Ensures proper calcium absorption for healthy bones
Vitamin D is best known for its role in aiding the absorption of calcium in the digestive system and promoting bone formation, but it has many other actions including balancing immune  function and supporting mood.
Vitamin D is synthesized by the skin following exposure to ultraviolet rays from sunlight, but many people do not spend enough time outdoors and become deficient in this essential vitamin. Vitamin D deficiency has been linked to numerous conditions, as this nutrient had many roles in the body including modulation of cell growth, neuromuscular and immune function and reduction of inflammation.
AOR Advantage
AOR's Vitamin D3 5000 IU is delivered in a softgel to supply superior absorption and better bioavailability of this fat-soluble nutrient.
Discussion
AOR's Vitamin D3 provides a bioavailable source of cholecalciferol. It helps to promote the healthy absorption and use of calcium and phosphorus.*
Guarantees
AOR™ guarantees that all ingredients have been declared on the label. Made without wheat, gluten, nuts, sesame seeds, mustard, dairy, eggs, fish, shellfish.
Directions
Take one softgel per day with or without food, or as directed by a qualified health care practitioner.
Cautions
Consult your physician before use if you're pregnant, lactating, have a medical condition, or if you're taking any medication. Keep out of reach of children.
Disclaimer
*These statements have not been evaluated by the Food and Drug Administration. This product is not intended to diagnose, treat, cure, or prevent any disease.
Serving Size
1 Softgel / Servings Per Container: 60
Amount Per Serving
% Daily Value
Vitamin D3 (cholecalciferol)
5,000 IU/125 mcg
625%
† Daily Value not established.
Other Ingredients: Organic virgin olive oil, soybean oil, MCT oil, corn oil, sunflower oil, peanut oil, tocopherols, purified water, glycerin, gelatin (lime bone).