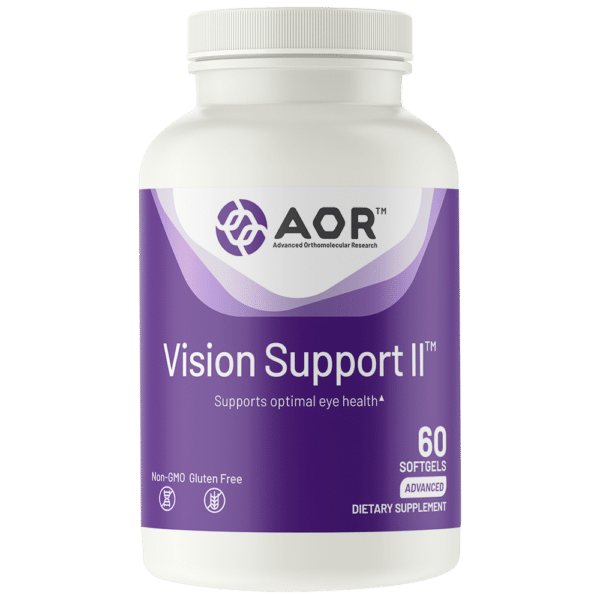 Supports optimal eye health*
Promotes healthy eye structure and function
Aids in the support of eye fatigue
Fortifies structures that are normally involved in protecting the eye from damage caused by light
Vision Support II™ is a combination of the most advanced nutrients clinically demonstrated to help support eye health and fight age-related degeneration. AOR's Vision Support II provides lutein, zeaxanthin, benfotiamine and black soybean hull extract in an olive oil suspension to enhance the absorption of these ingredients. The effectiveness of Vision Support II can be maximized with a complete, high-quality multivitamin/mineral formulation.
Ultraviolet light and blue light contribute to damage in the lens and macula, and lutein and zeaxanthin are pigments found in the eyes whose main function is the filtration of UV light.  Benfotiamine is a highly bioavailable form of vitamin B1, and studies have shown that it helps prevent the formation of AGEs (advanced glycation end-products), which are damaged proteins that accumulate in the lens and can result in cataracts.
AOR Advantage
AOR's Vision Support II formula includes a variety of nutrients that have a positive impact on eye health. These ingredients are delivered in an oil-based delivery system for improved  absorption.
Discussion
Vision Support II™ is a combination of ingredients based on the latest scientific research to support eye health.*
Guarantees
AOR™ guarantees that all ingredients have been declared on the label. Made without wheat, gluten, nuts, peanuts, sesame seeds, mustard, dairy, eggs, fish or shellfish.
Directions
Take two softgels per day with food, or as directed by a qualified health care practitioner. Do not crush, blend or mix the softgel. Swallow the softgel whole.
Cautions
Do not use if you are pregnant or lactating. Consult your physician before use if you have a medical condition, or are taking any medication. Keep out of reach of children.
Disclaimer
*These statements have not been evaluated by the Food and Drug Administration. This product is not intended to diagnose, treat, cure, or prevent any disease.
Serving Size
2 Softgels / Servings Per Container: 30
Amount Per Serving
% Daily Value
Vitamin B1 (as Benfotiamine)
160 mg
13,333%
Black Soybean Hull extract (10% cyanidin-3-glucosides)
120 mg
†
† Daily Value not established.
Other Ingredients: Extra virgin olive oil, safflower oil, gelatin (porcine), caramel, glycerin, corn oil and mixed tocopherols. Contains: soy and corn.