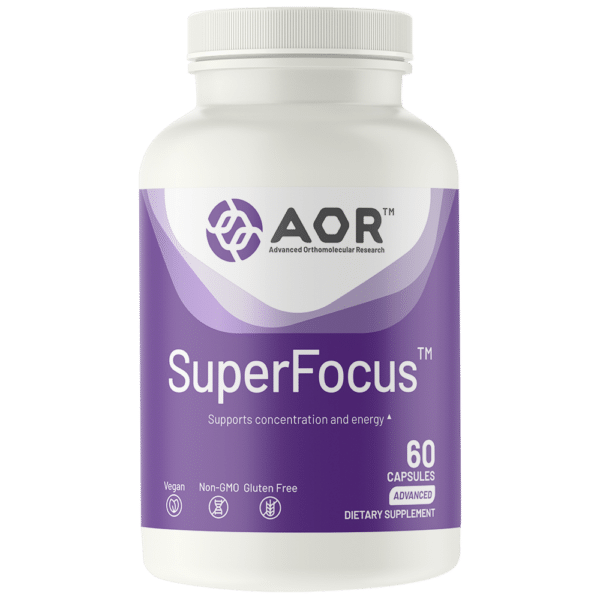 Supports concentration and energy*
Combines activated B vitamins and botanical herbs to increase mental acuity
Increases blood flow to the brain for enhanced mental and physical performance
Balances stimulating effects with calming ingredients
Ideal for students, professionals and individuals looking to improve their mental game
AOR's SuperFocus™ provides B vitamins, botanical extracts and caffeine to improve mental alertness while inducing a calm and relaxed state. The B vitamins benfotiamine,  methylcobalamin and choline are specifically related to cognitive functions. They are in their active forms to support proper neuronal health and cellular function.
SuperFocus™ also provides clinically tested botanical extracts such as rhodiola, bacopa and Panax ginseng to stimulate alertness. Caffeine, isolated from green tea, enhances focus and the amino acid, L-theanine, provides calming effects. The specific combination of botanicals and B vitamins ensures that the stimulating effects of the caffeine, ginseng, and rhodiola are balanced with the calming effects of L-theanine, inositol and bacopa.
AOR Advantage
SuperFocus™ offers a balanced combination of botanicals and vitamins to both stimulate and calm the mind, without the jittery feeling associated with energy drinks, which often contain excess sugar or caffeine.
Discussion
SuperFocus™ helps support alertness, wakefulness and endurance as well as physical and cognitive performance. The ingredients in SuperFocus™ help support brain function and mental stamina.*
Guarantees
AOR™ guarantees that all ingredients have been declared on the label. Made without wheat, gluten, nuts, peanuts, sesame seeds, sulfites, mustard, soy, dairy, eggs, fish, shellfish or any animal by-product.
Directions
Take one to two capsules daily with or without food, or as directed by a health care practitioner. To reduce the chance of side effects, start with one capsule and gradually increase to the effective dose. For occasional use only. Consult a health care practitioner for use beyond three months. Do not mix, blend or crush capsules. Swallow capsules whole.
Cautions
Consult your physician before use if you are pregnant, breastfeeding, have a medical condition (high blood pressure, diabetes, glaucoma, overactive bladder), or are taking any medication (eg. hormone replacement therapy (HRT), birth control pills, antidepressant medications, lithium, blood thinners, or blood pressure increasing medications such as ephedrine). Keep out of reach of children. Discontinue use if you experience irritability, insomnia, hypersensitivity/allergy, anxiety or headaches. This product is not intended as a substitute for sleep.
Disclaimer
*These statements have not been evaluated by the Food and Drug Administration. This product is not intended to diagnose, treat, cure, or prevent any disease.
Serving Size
1 Capsule / Servings Per Container: 60
Amount Per Serving
% Daily Value
Thiamine (Vitamin B1 as benfotiamine)
15 mg
1,250%
Riboflavin (Vitamin B2 as riboflavin-5-phosphate)
2.5 mg
192%
Vitamin B3 (as niacinamide)
15 mg
94%
Vitamin B6 (as pyridoxal-5'-phosphate)
15 mg
882%
Folate (as calcium L-5-MTHF)
333 mcg *DFE (200 mcg of folic acid)
83%
Vitamin B12 (as methylcobalamin, hydroxocobalamin)
500 mcg
20,833%
Vitamin B5 (as calcium D-pantothenate)
25 mg
500%
Choline (as choline bitartrate)
15 mg
3%
Bacopa monnieri extract (50-55% Bacosides A & B)
150 mg
†
Rhodiola rosea extract (1-6% Rosavins, 0.8-3% Salidroside)
72 mg
†
Caffeine (from green tea)
50 mg
†
L-Theanine (from green tea)
50 mg
†
Panax ginseng extract
30 mg
†
Inositol (as myo-inositol)
25 mg
†
† Daily Value not established.
Other Ingredients: Silicon dioxide and dicalcium phosphate. Capsule: hypromellose.