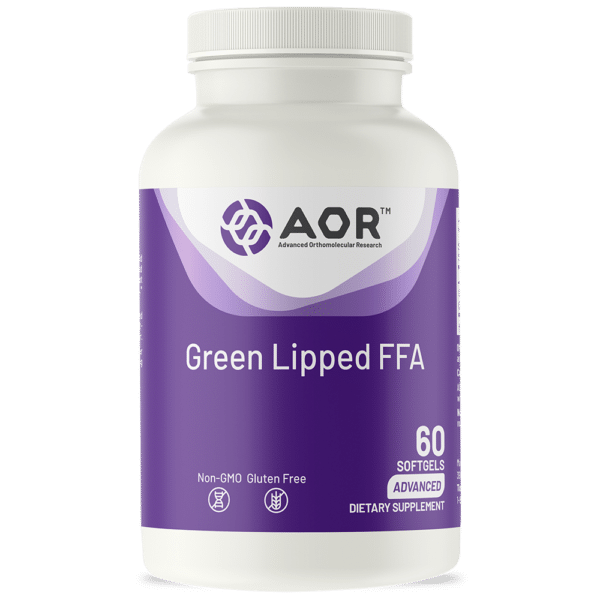 Unique Omega 3 sourced from New Zealand to support joint health*
High in rare Omega 3s ETA and SDA
Provides better joint support than conventional fish oil
Green-lipped mussel extract sourced from New Zealand
Green Lipped FFA is the fatty acid compound found in the New Zealand green-lipped mussel, which carries a unique profile of Omega 3 fatty acids not found in traditional fish oil  supplements. Our formula helps maintain healthy joints and mobility while supporting the body's ability to naturally repair damaged cartilage, reduce joint discomfort, and offer support to those who are very active and/or play sports.
Joints are composed of cartilage, muscle, ligaments, and bone, and when neglected, they are susceptible to inflammatory diseases such as arthritis and bursitis, injuries and dislocations, all of which can cause discomfort, stiffness and swelling. Aging and weight gain can also be factors that cause damage to joint cartilage. The most effective way of maintaining joint health is keeping bones, ligaments, tendons and muscles strong. This can be achieved through a combination of exercise and a nutritional routine. Green Lipped FFA offers Omega 3 fatty acids that support healthy joints.
AOR Advantage
AOR's Green Lipped FFA contains both eicosatetraenoic acid (ETA) and stearidonic acid (SDA) which have been found to help improve joint comfort and mobility. In addition to this,  Green Lipped FFA offers support for a proper inflammatory response to damage, at significantly lower doses than conventional fish oils extracts.
Discussion
Green Lipped FFA is the stable free fatty acid extract of the New Zealand green-lipped mussel. This compound contains a unique profile of omega-3 and other fatty acids not found in significant amounts in standard fish oil supplements. Aids in the reduction of joint discomfort.*
Guarantees
AOR™ guarantees that all ingredients have been declared on the label. Made without wheat, gluten, corn, nuts, peanuts, sesame seeds, sulphites, mustard, dairy or eggs.
Directions
Take two softgels twice daily for the first two months, followed by one softgel twice daily for the next four months, take with a fat-containing meal, or as directed by a qualified health care practitioner.
Cautions
Do not use if you are pregnant or lactating. Consult your physician before use if you have a medical condition, or are taking any medication. Keep out of reach of children.
Disclaimer
*These statements have not been evaluated by the Food and Drug Administration. This product is not intended to diagnose, treat, cure, or prevent any disease.
Serving Size
Two Softgels / Servings Per Container: 30
Amount Per Serving
% Daily Value
Green-Lipped Mussel fatty acid extract (Perna canaliculus)
100 mg
†
† Daily Value not established.
Other Ingredients: olive oil, softgel (gelatin (bovine), glycerin and purified water) and D-alpha tocopherol (from soy). Contains: Soy, fish, shellfish and animal by-product.