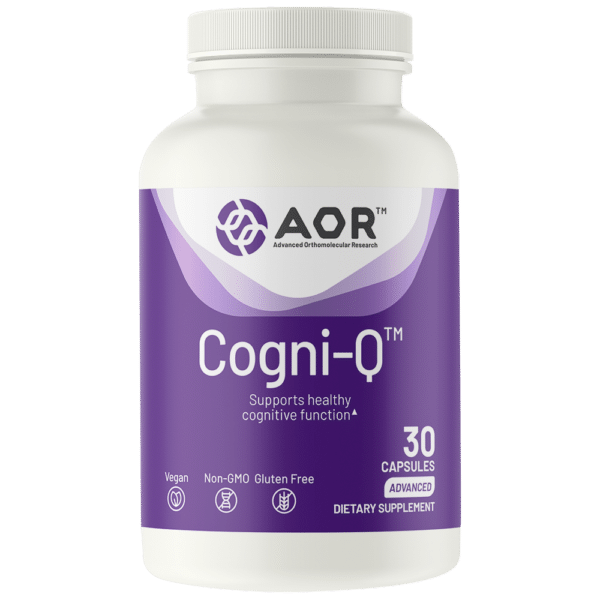 Supports healthy cognitive function*
Supports healthy neuron function
Promotes energy and mitochondrial health
Powerful combination of PQQ with high-dose CoQ10
AOR's Cogni-Q™ combines pyrroloquinoline quinone (PQQ) with a high amount of the antioxidant Coenzyme Q10. PQQ is a B vitamin-like nutrient found in soil and certain fruits and vegetables. Coenzyme Q10, also known as CoQ10, is an energy producing, fat-soluble nutrient that helps produce energy in the body's cells.
Both PQQ and CoQ10 have been shown to help maintain healthy nerves and cognitive function as it relates to general cognition and memory. For adults, cognitive decline usually begins in the mid-40s as the brain's capacity for memory and comprehension starts to deteriorate. Both PQQ and CoQ10 are powerful antioxidants, and they offer support for cellular energy production and mitochondrial function, both key for healthy aging.
AOR Advantage
AOR's Cogni-Q™ harnesses the powerful antioxidants of both PQQ and CoQ10 to support energy, a clear mind, and healthy cholesterol levels through the aging process.
Discussion
Cogni-Q™ contains pyrroloquinoline quinone (PQQ) and coenzyme Q10 (CoQ10), antioxidants for the maintenance of good health.*
Guarantees
AOR™ guarantees that all ingredients have been declared on the label. Made without wheat, gluten, nuts, peanuts, sesame seeds, sulfites, mustard, soy, dairy, eggs, fish, shellfish, or any animal byproduct.
Directions
Take one capsule daily with, or as directed by a qualified health care practitioner. Do not crush, mix or blend capsules. Swallow capsules whole.
Cautions
Do not use if pregnant or breastfeeding. Consult a health care practitioner prior to use if you are taking blood thinners or blood pressure or other medication or if you have any other medical condition. Keep out of reach of children.
Disclaimer
*These statements have not been evaluated by the Food and Drug Administration. This product is not intended to diagnose, treat, cure, or prevent any disease.
Serving Size
One Capsule / Servings Per Container: 30
Amount Per Serving
% Daily Value
Pyrroloquinoline quinone
20 mg
†
† Daily Value not established.
Other Ingredients: Calcium phosphate, silicon dioxide and sodium stearyl fumarate. Capsule: hypromellose and purified water.