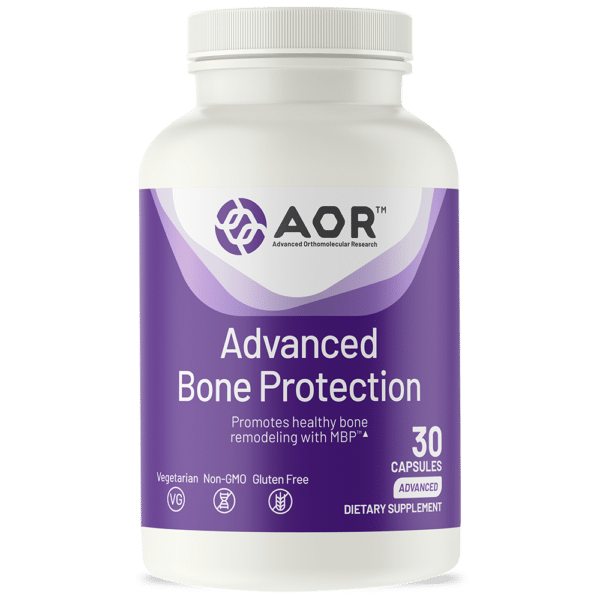 Promotes healthy bone remodeling with MBP™*
A protein complex derived from bovine milk
Supports collagen production and calcium usage
Supports healthy bone growth and bone mineral density
Building and maintaining healthy, strong bones is crucial because the skeletal structure plays many important roles in the body. Advanced Bone Protection supports healthy calcium  retention and its effective use. Studies indicate Milk Basic Protein (MBP™) supports healthy bone formation while also promoting bone mineral density retention. Advanced Bone Protection does not contain calcium and does not replace calcium; it supports the body's ability to make an effective use of calcium while promoting an increase in collagen production.
AOR Advantage
AOR's Advanced Bone Protection formula offers premium support for bone health and bone mineral density while promoting collagen production and calcium usage. The MBP™ in  Advanced Bone Protection from  AOR™ comes in small, convenient capsules that can be taken with or without food, are easy to swallow and have no known negative interactions with calcium or other nutrients.
Discussion
Advanced Bone Protection contains MBP™ (Milk Basic Protein), a clinically studied active protein complex isolated from the whey fraction of milk. Research demonstrates that MBP can positively impact bone health by reducing bone loss (resorption) and increasing bone mineral density.
Guarantees
AOR™ guarantees that all ingredients have been declared on the label. Made without wheat, gluten, corn, nuts, peanuts, sesame seeds, sulfites, mustard soy, eggs, fish or shellfish.
Directions
Take one capsule daily with or without food, or as directed by a qualified health care practitioner. Do not crush, mix or blend capsules. Swallow capsules whole.
Cautions
Consult your physician if you are pregnant or lactating or if you have a medical condition, or are taking any medication. Keep out of reach of children. Advanced Bone Protection is not recommended for people with milk allergies.
Disclaimer
*These statements have not been evaluated by the Food and Drug Administration. This product is not intended to diagnose, treat, cure, or prevent any disease.
Serving Size
One Capsule / Servings Per Container: 30
Amount Per Serving
% Daily Value
MBP™ (a specific basic protein fraction derived from bovine milk)
40 mg
†
†Daily Value not established.
Other Ingredients: microcrystalline cellulose and sodium stearyl fumarate. Capsule: hypromellose and purified water.