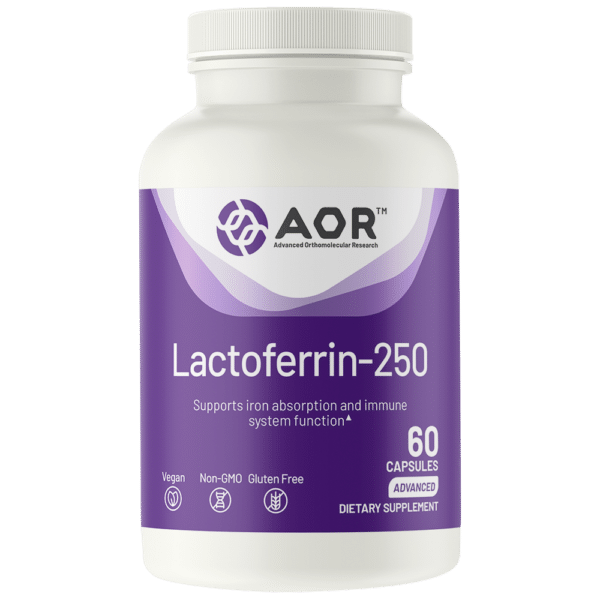 Supports iron absorption and immune system function*
Lactose free for those with sensitivities
Promotes healthy inflammatory response
The most powerful immune factor in milk
Lactoferrin is an iron-binding protein found in human bodily fluids, human milk and bovine milk. It is the second most abundant protein found in colostrum, which is the first milk babies consume after birth. Lactoferrin is found in mammals' various secretions: e.g. saliva, tears and milk; and it provides antioxidants for the maintenance of good health. In some countries, baby formula manufacturers have made lactoferrin a part of their formulas.
Lactoferrin belongs to the innate immune system; it helps promote cellular health and healthy aging and works within the body as a powerful supporter of immune health. It may help the  body manage the inflammatory response and it can also modulate the cells responsible for bone growth. Lactoferrin is extremely resistant to degradation in the gastrointestinal tract and is therefore effective in both acidic and alkaline pH. It is absorbed by a specific receptor found in the intestinal brush border. Lactoferrin-250 is a premium supplement that supports the immune system.
AOR Advantage
AOR's Lactoferrin-250 is a non-GMO and gluten-free formulation that contains no lactose. It is safe for those with lactose intolerance and is a great way to take advantage of the benefits of dairy without consuming lactose.
Discussion
Lactoferrin is an iron transporter glycoprotein originally isolated from bovine milk. Lactoferrin is a multitasking protein with various biological roles including binding to iron, which contributes to its beneficial effects.*
Guarantees
AOR™ guarantees that all ingredients have been declared on the label. Made without wheat, gluten, corn, nuts, peanuts, soy, eggs, fish or shellfish.
Directions
Take one to six capsules daily with meals and a few hours before or after taking other medications, or as directed by a qualified health care practitioner. Do not crush, mix, or blend capsules. Swallow capsules whole.
Cautions
Consult your physician if you are pregnant or breastfeeding, if you have a medical condition, or if you are taking any medication. Keep out of reach of children. 
Disclaimer
*These statements have not been evaluated by the Food and Drug Administration. This product is not intended to diagnose, treat, cure, or prevent any disease.
Serving Size
One Capsule / Servings Per Container: 60
Amount Per Serving
% Daily Value
Bovine Lactoferrin
250 mg
†
† Daily Value not established. *Percent Daily Values are based on a 2,000 calorie diet.
Other Ingredients: none. Capsule: hypromellose, glycerin and purified water. Contains: milk ingredient (bovine).