Disclaimer
*These statements have not been evaluated by the Food and Drug Administration. Ingredient information is not intended to diagnose, treat, cure, or prevent any disease.
DIM is derived from I3C a naturally occurring compound derived from cruciferous vegetables such as broccoli, Brussels sprouts and cabbage that promotes 2-OHE. I3C needs stomach acid to then convert into 15+ compounds, of which the most predominant is DIM
DIM promotes the phase I hydroxylation of estradiol, favoring the 2-OHE pathway, and shunting metabolism away from the 16-OHE pathway in the liver. DIM helps increase the 2-OHE:16-OHE ratio, it also has been shown to affect the secretion of estradiol in endometriotic cells.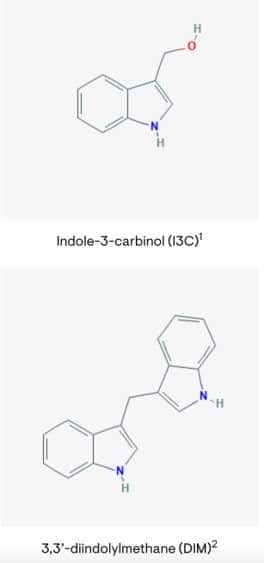 Technical insights:
Country of origin: China
Starting material: Indole-3-carbinol (I-3-C)
Solvent for extraction: Ethanol
Stored form: Powder