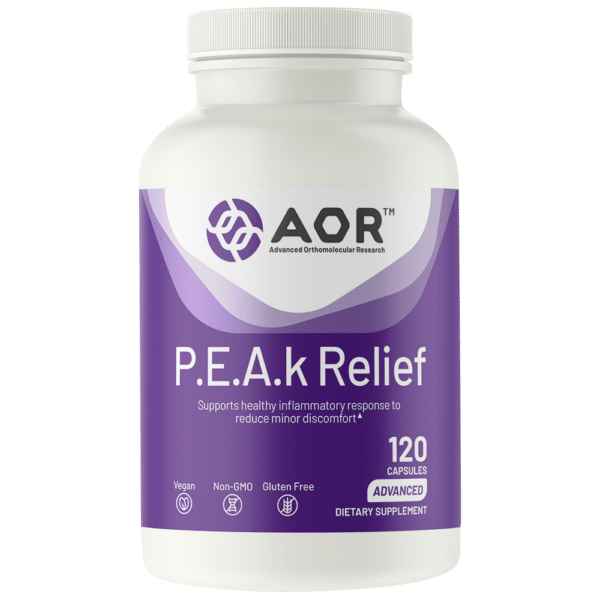 Supports healthy inflammatory response to reduce minor discomfort*
Promotes mobility and joint flexibility
Supports maintenance of healthy bones and muscles
Promotes production of inflammatory mediators
P.E.A.k Relief provides a well-rounded approach to help alleviate discomfort and supports a healthy inflammatory response. Palmitoylethanolamide (PEA) has been studied for over 80 years for its potent anti-inflammatory properties. AOR's formula combines PEA with Univestin®, which has been shown to provide relief from joint discomfort, and boswellia, which supports a healthy inflammatory response. This innovative formula also includes quercetin, and magnesium glycinate, which is critical for energy metabolism and muscle function.
AOR Advantage
AOR's P.E.A.k Relief supports comprehensive discomfort management. This unique formula combines botanicals, flavonoids and minerals to address inflammation, muscle relaxation, and the perception of discomfort.
Discussion
Magnesium helps in the development and maintenance of bones, muscles and general good health. Quercetin is an antioxidant and is used for capillary/blood vessel health. Studies show that PEA can support healthy inflammatory response to help relieve minor discomfort. Univestin™ helps relieve joint discomfort and stiffness, and improve mobility.*
Guarantees
AOR™ guarantees that all ingredients have been declared on the label. Made without wheat, gluten, nuts, peanuts, sesame seeds, sulphites, mustard, soy, dairy, eggs, fish, shellfish or any animal by-product.
Directions
Take one capsule one to four times a day with food, or as directed by a health care practitioner. Do not crush, mix, or blend capsules. Swallow capsules whole.
Cautions
Consult a health care practitioner prior to use if you are pregnant or breastfeeding, have a history of, or active stomach ulcers, have or are predisposed to liver disorders or are taking medications or supplements that may affect the liver, are taking anticoagulants (e.g., warfarin), or are taking other anti-inflammatory medications or supplements. Some people may experience mild gastrointestinal disturbances such as diarrhea, abdominal pain, heartburn, nausea and vomiting; in which case, discontinue use. Consult a health care practitioner if symptoms persist or worsen. Discontinue use and consult a health care practitioner if you develop symptoms of hypersensitivity or allergy, or if you develop liver-related symptoms. For use beyond 12 weeks, consult a health care practitioner. This product contains corn-derived ingredients, do not use if you have an allergy. Keep out of reach of children.
Disclaimer
*These statements have not been evaluated by the Food and Drug Administration. This product is not intended to diagnose, treat, cure, or prevent any disease.
Serving Size
1 Capsule / Servings Per Container: 120
Amount Per Serving
% Daily Value
Magnesium (glycinate)
25 mg
6%
ǂ Palmitoylethanolamide (PEA)
150 mg
†
—
Scutellaria Baicalensis (root) extract
—
Senegalia catechu (heartwood) extract
Boswellia serrata (gum resin) extract
31 mg
†
† Daily Value not established.  ǂ Micronized, Genuine Italian Source. *Univestin™ is a registered trademark from Unigen Co., Ltd.
Other ingredients: maltodextrin (corn) and potato starch. Capsule: hypromellose.