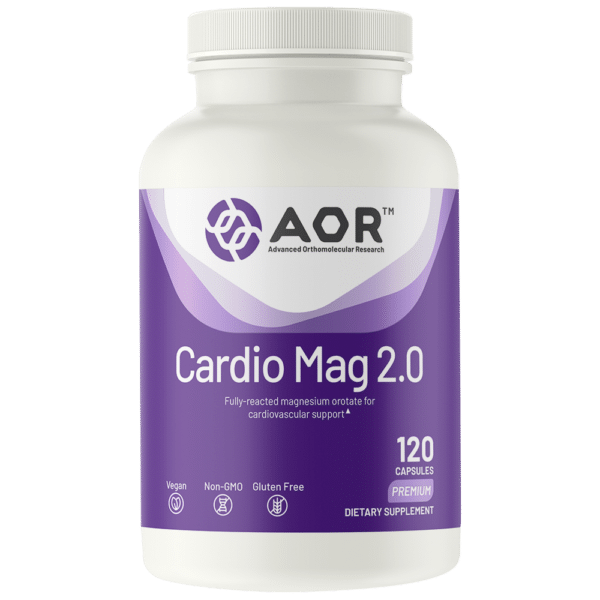 Fully reacted magnesium orotate for cardiovascular support*
Supports a healthy heart and healthy cells
Helps promote energy production in the heart
Supports athletic performance
AOR's Cardio Mag 2.0 is the ideal supplement for those looking to maintain healthy magnesium levels that may help improve athletic performance and support healthy cells. The formula contains true, fully reacted magnesium rotate. Orotate or orotic acid, in addition to being a carrier for magnesium, also has heart-health benefits.
AOR's formula combines magnesium with orotic acid to deliver the best support. Magnesium is known to be an important mineral for the heart. Magnesium also plays a very important role in the normal functioning of cells, nerves, muscles and bones. Orotic acid supports cellular repair, cardiac energy stores, energy levels and protein synthesis. Orotic acid also supports RNA synthesis, the precursor to DNA production, by strengthening and restoring the cellular function of heart cells under stress.
AOR Advantage
Cardio Mag 2.0 is a fully reacted and pure form of magnesium orotate in an effective and research backed dose for cardiovascular support.
Discussion
The magnesium orotate in AOR's Cardio Mag 2.0 is fully-reacted, unlike most products which are food-grade mixtures of orotic acid with inorganic magnesium salts. This true magnesium orotate combines two compounds important for supporting optimal cardiovascular function and stress tolerance*
Guarantees
AOR™ guarantees that all ingredients have been declared on the label. Contains no wheat, gluten, corn,  nuts, peanuts, sesame seeds, sulfites, mustard, soy, dairy, eggs, fish, shellfish, or any animal by-product.
Directions
Take one capsule, one to four times daily with food, or as directed by a qualified health care practitioner. Do not crush, blend or mix the capsules. Swallow the capsule whole.
Cautions
Consult your physician if you are pregnant or lactating or if you have a medical condition, or are taking any medication. Keep out of reach of children
Disclaimer
*These statements have not been evaluated by the Food and Drug Administration. This product is not intended to diagnose, treat, cure, or prevent any disease.
Serving Size
One Capsule / Servings Per Container: 120
Amount Per Serving
% Daily Value
Magnesium (from magnesium orotate)
50 mg
12%
Orotic acid (from magnesium orotate)
720 mg
†
† Daily Value not established.
Other Ingredients: sodium stearyl fumarate. Capsule: hypromellose.